Creating Landscapes..................WOW!
A report on daCi USA's Third Intergenerational Gathering
August 12-15, 2008
Brigham Young University, Provo, Utah
By Sam Baumgarten, Chair, daCi USA
As I sit in my motel room preparing to leave Provo, Utah and the beautiful BYU campus, the word "wow" comes to mind, as in "WOW, what a spectacular conference!" daCi USA's Third Intergenerational Gathering, Creating Landscapes, was, by all accounts, a huge success! Let me recount some of the highlights and share some words of praise for the folks who made it happen.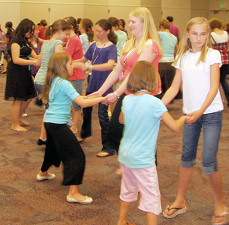 Our gathering began with an opening ceremony at the BYU Conference Center. After words of greeting from yours truly, the Chair, and Sara Lee Gibb, Dean of the College of Health and Human Performance (also founding member of daCi USA and current secretary on the international daCi Board), participants were treated to a theme-based dance, entitled "Human Kind: Landscapes of Connection." The dance was created especially for the Gathering through a collaborative effort of three daCi Board members - Mary Lynn Babcock, Marilyn Berrett, and Lynnette Overby - and featured students from their respective universities - University of North Texas, Brigham Young University, and University of Delaware. The performance was well-received and set the tone for activities to follow. In fact, participants were so impressed by the piece that it was brought back on the full stage at Thursday night's concert.
Following the Human Kind dance and a brief welcoming statement and invocation by Lee Wakefield, Chair of BYU's Dance Department, we adjourned to the beautiful outdoor terrace at the BYU Conference Center for our opening buffet dinner. A delicious meal, warm, but comfortable temperatures, the imposing mountain range as a backdrop - what a great way to begin our socializing, getting to know you process. This process continued after dinner with a cowboy poetry presentation, featuring Dan Bradshaw, and a square/contra dance led by BYU's Susanne Davis and your Chair.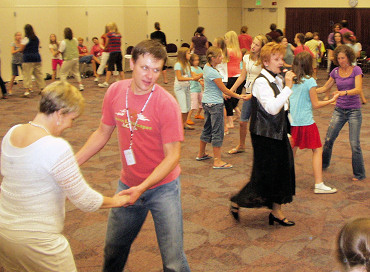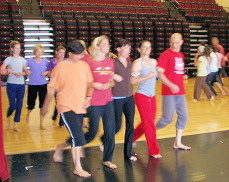 With the glow of the opening night's communion still upon them, Gathering participants embarked on a three day journey of connecting, collaborating, creating landscapes, and becoming one out of many. (How's that for connecting the themes of all three daCi Gatherings??) Each day began with intergenerational core classes taught by seven pairs of teachers. Teaching pairs included Anne Gilbert/Chris Roberts, Joy Friedlander/Miriam Brown, Pat/Kathy Debenham, Kathleen Kingsley/Randy Barron, Chara Huckins/Amy Markgraf, Jacque Bell/Judith Nelson, and Mary Lynn Babcock/Laurie Sanda, Their groups were designated alphabetically using environmental features: arches, buttes, canyons, deserts, estuaries, forests, and glaciers. How creative!! The morning class was devoted to exploring the conference theme "Creating Landscapes" and these same groups reconvened for an afternoon class to develop some choreography based on their explorations. The dance pieces developed in these afternoon classes were shared on the final day. As you would expect of daCi participants, each group developed a special, unique bit of choreography based on full collaboration between teachers and dancers.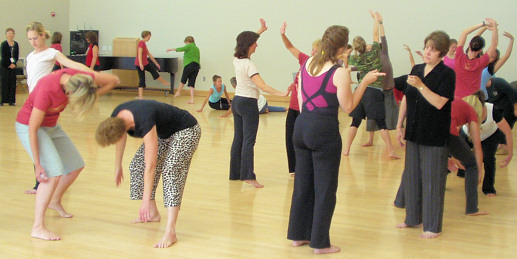 The morning intergenerational classes were followed by age group skills classes. These classes focused more on isolating particular dance techniques and age-appropriate skills. Leaders included Mary Ann Lee, Joni Wilson, Kathleen Sheffield, Pauline Kacher, Angie Banchero-Kelleher, Shirley Ririe, Jacque Bell, and Abby Fiat.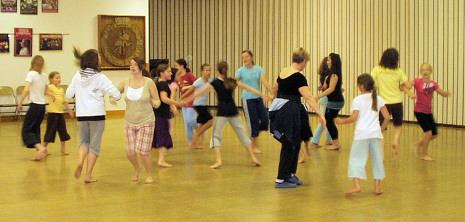 As has been the practice at previous Gatherings, a daily class featuring world cultures was included. Immediately after the lunch break, dancers chose among several offerings: international folk dance, American style dance, Polynesian, and Native American. Susanne Davis and Ed Austin, two renowned BYU dance educators, were among the presenters, along with Fili and Pania Sagapolutele, Ryan Cuny, Tara Goedel, and Meredith Schramm. Meredith's session involved a hardy group of 20 students who learned some complicated hoop dance patterns.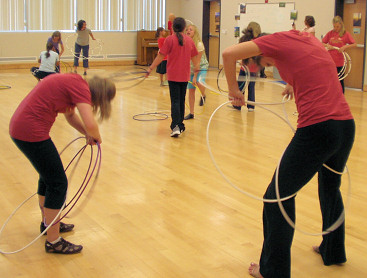 Just writing about all these classes makes me tired! Yet, there was more. Each afternoon featured an "options" session. Some participants traveled to Sundance, Utah's well known ski resort, while others participated in art activities or additional dance sessions (hip-hop and ballroom). During this time slot, Becky Ellis presented a wonderful workshop session on dance for boys, and there was a session for teachers to share lesson ideas. This "options" slot turned out to be a nice addition to our Gathering schedule.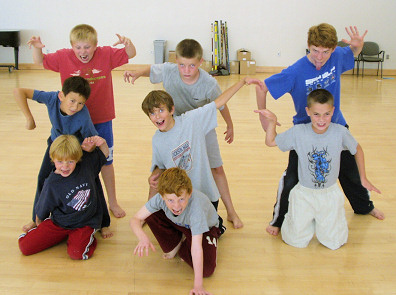 As always, performances are a big part of daCi Gatherings. On Wednesday night, daCi groups were represented, and on Thursday night, Utah dance groups were featured. The performance pieces reflected the breadth and depth of daCi interests and skills. A special highlight as part of the Utah night was a performance by the renowned Ririe-Woodbury Dance Company.
Our Friday night closing celebration featured the intergenerational sharing, a lovely sit-down banquet, some Native American dance presentations, and final mixer dance. When we left the hall after the final dance, I believe everyone felt that glow of communion that I mentioned earlier. We truly had come as many, and we had connected and collaborated to create new landscapes, new dances, new friendships, and to, ultimately, become one.
The daCi Board certainly hopes that if you missed this opportunity, you won't miss the next one. They are life changing events!!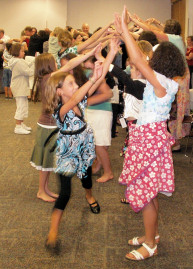 Special thanks go to Board member and BYU dance educator Marilyn Berrett, who did much of the on-site coordination. Marilyn was ably assisted by Board member and Utah resident Chris Roberts and numerous BYU dance students. Two other daCi Board members, Anne Gilbert and Judith Nelson coordinated the selection of Gathering teachers, while Denise Rapp organized the evening presentations by daCi groups. And, did I mention the weather gods? We had five days of blue skies, sunshine, and comfortable temperatures. Pardon the cliche, but, all in all, it was a great team effort!