A Touch of Jamaican Warmth: Both Temperature and Hospitality!
by Sam Baumgarten and Marilyn Berrett
Visitors to daCi's Eleventh International Conference, in Kingston, Jamaica, were treated to some traditional hot, sticky Caribbean weather (but no hurricanes) and a wonderful dose of warm hospitality from daCi Jamaica's organizing committee and volunteers. The conference, held August 2nd through August 8, took place primarily at the Edna Manley College for the Visual and Performing Arts. The College, rather small in size, featured separate buildings for drama, music, visual arts, and dance. Although it was a bit challenging, at first, to find one's way among the maze of alleyways connecting the buildings, most everyone had it figured out within a day. There were ample classrooms for lectures and paper presentations, and several studios for the movement workshops. Immediately across the street from the College was the Little Theatre (air conditioned, thankfully), site of most of the daily performances.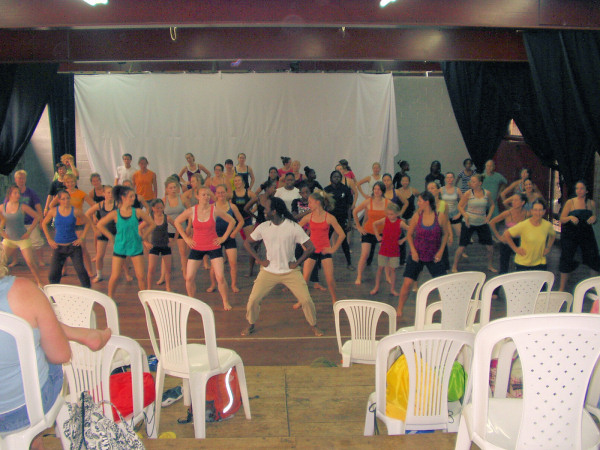 See more images from this event!
The conference opened with a beautiful outdoor ceremony in Kingston's jewel of a park, Emancipation Park, located directly across the street from the Jamaica Pegasus Hotel, conference headquarters. The various countries attending the conference were able to march in to the assembly area behind a Jamaican flag bearer. Welcoming speeches from Jamaican dignitaries and daCi International Chair, Ann Kipling Brown, mixed with some samples of Jamaican dance combined for a meaningful and exciting opening. Following the official welcome, all participants were treated to a buffet of traditional Jamaican treats (and some American, as well).
From our perspective, there seemed to be a nice blend of plenary sessions, paper presentations on a wide variety of topics, and active workshops. In other words, true to other daCi gatherings, one could learn, meet and mingle with folks from around the world, and dance until you dropped! What amazes us is the incredible energy and aplomb of daCi members. Most everyone went non-stop, from 9:00 a.m. until 10:00 at night, and no one seemed to mind teaching and dancing in the hot conditions (no air conditioning in the studios).
One special highlight was the energy and skill of the many Jamaican dance groups that shared their skills at the various performances. Perhaps those folks have a special gene that allows their hips to move so fluidly! Most of us can only wish that we could control our hip, pelvic, abdominal, and gluteal muscles the way the Jamaicans can.

While no conference runs without its minor 'glitches', it seemed that there was always a Jamaican volunteer nearby to assist with questions and information. As noted above, the warmth extended to all participants was certainly on par with the warmth in the atmosphere!

The closing ceremonies on Saturday evening included a delightful trek around the University of West Indies campus to eight different outdoor spaces. At each stop, live drummers accompanied the young conference participants, who performed the dances of many of the Caribbean islands that surround Jamaica. An enthusiastic group then whistled and beckoned the audience to parade and dance to the next location. At the final destination, all conference participants were invited to celebrate the week with one last sumptuous Jamaican feast and more dancing. The food was great, the music infectious and the dancing was non-stop. New and old friendships deepened on that last warm Jamaican night in Kingston. It was a great ending to the week.
During the opening international daCi Advisory Board meeting, it was announced that the next international gathering will be in Taiwan. Two representatives from Taiwan made a rather convincing presentation about the value and benefits of bringing a daCi conference to an Asian land. Moreover, the next conference will be conducted in partnership with the World Dance Association. So, I guess you all need to open two savings accounts - one for daCi USA, 2011, in Texas, and one for daCi International, 2012, in Taiwan!