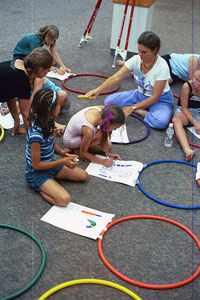 Links
daCi International - The aim of Dance and the Child International is to recognize and develop dance for young people, with respect for the ethnic, gender and cultural identities of each young person within a spirit of international understanding.

National Dance Education Organization (NDEO) - The National Dance Education Organization (NDEO) advances dance education centered in the arts. We are the voice of representation for the field in legislatures, schools of dance, PreK-12 schools, and institutions of higher education throughout the country.

Congress in Dance Research (CORD) - The Congress On Research in Dance is a not-for-profit, interdisciplinary organization with an open, international membership. Its purposes are to encourage research in all aspects of dance and foster the exchange of ideas, resources, and methodology, through publication, international and regional conferences, and workshops.

Society of Dance History Scholars (SDHS) - The Society of Dance History Scholars (SDHS) is a not-for-profit organization dedicated to promoting study, research, discussion, performance, and publication in dance history and related fields.

National Dance Association (NDA) - The National Dance Association leads in promoting and supporting creative, artistic and healthy lifestyles through quality services and programs in dance and dance education.

American Alliance for Health, Physical Education, Recreation and Dance (AAHPERD) - AAHPERD is an alliance of six national associations, six district associations, and a research consortium which support healthy lifestyles through high quality programs.
daCi Member Links
(Mary Lynn Babcock) satellite-dance.com
(Marilyn Berrett) danceisbest.com byukinnect.org dance.byu.edu
(Teresa L. Cooper) danceandtheatre.unt.edu
(Jacqueline Davis) www.brockport.edu/dance
(Janina Dobkowski) www.polishkidsdance.com
(Cally Flox) education.byu.edu/arts
(Anne Green Gilbert) www.creativedance.org
(Susan Gingrasso) www.lodcusa.org
(Jill Green) performingarts.uncg.edu/faculty-and-staff/jill-green
(Susan Griss) http://mindsinmotion.org
(Sean Guymon) udeo.org utahdancefilmfestival.org
(Judith Lynne Hanna Ph. D.) www.judithhanna.com
(Ann Hutchinson Guest) www.lodc.org
(Kathleen Kingsley) owldancer.net
(Anna Mansbridge) www.seattleearlydance.org
(Melissa Michaels) www.bdanced.com www.goldenbridge.org
(Sandra Cerny Minton) www.scmdance.com
Gary Lee Price garyleeprice.com
Sherry B. Shapiro www.meredith.edu/dance-theatre/dance-faculty.htm
(Juanita Suarez) www.latinadanceproject.com
daCi Groups, Organizations and Institution Links
Kaleidoscope Dance Company www.creativedance.org
University of Tennessee at Chattanooga South East Center for Education www.utc.edu/scea
Peanut Butter & Jelly Dance Company / Small Feets Dance Company www.pbjdanceco.org